---
GETTING STARTED ​
This Priority One Fitness show was created for those who are new, or returning, to fitness.
Getting Started is a chair-based fitness series for those at home looking for a low intensity exercise program which is practical for most all levels fitness. A
great option for beginning a weight loss program, as well as for senior fitness, Getting Started removes the barrier to entry.
MOVING FORWARD
This Priority One series is a step-up from our Getting Started series options. Whether you have joined us for Getting Started or you are a new fan of our show, Moving Forward provides great, moderate intensity aerobic workouts. Formatted to encourage your success, Moving Forward will have you feeling exhilarated... Not exhausted.
---
---
JOIN US ON THE SHOW!
​
Priority One's participants are local community members... Your friends, family, neighbors. We believe everyday people lead by example. Priority One wants viewers to feel, to know, measurable results ARE achievable! We believe a great fitness show is comprised of all kinds of people. Participants are encouraged to be themselves... It's ok to mess up, forget moves, stumble, giggle, take a water break, make modifications etc.
​
We'd love to have you on for one, or more, 30 min. episodes. Ask your friends to join you!

All ages (18+) & all body types welcome.

No experience necessary.

No rehearsals to attend.

Wear clothes and shoes you already own.

All we ask is that you

SMILE

!

We film on Fridays in downtown Portsmouth at the PPMTv studio.

All episodes are edited prior to airing/distribution.

ASK QUESTIONS, GET INVOLVED: E

mail: alexis@priorityone.us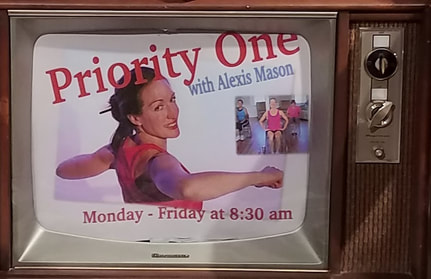 BEHIND THE SCENES...